SNC Launches a Derecho Storm Recovery Program for Private Landowners
---
Submitted by K Smith on Fri, 07/07/2023 - 2:17pm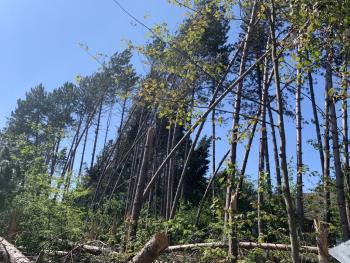 South Nation Conservation (SNC) is introducing an Eastern Ontario Derecho Storm Reforestation Program, a storm recovery program for private landowners who were directly affected by the destructive storm last year.

On May 21, 2022, a narrow line of intense winds up to 195 km/hr, caused extensive damage to forested areas in Eastern Ontario from the City of Ottawa eastward through the municipalities of Clarence-Rockland, Alfred-Plantagenet, Champlain, and East Hawkesbury.

Over 300 landowners contacted SNC for assistance in the aftermath of the derecho storm.

Now, with funding provided by the City of Ottawa, the United Counties of Prescott and Russell and the Federal Government, as part of the 2 Billion Tree Program, SNC can now provide support to woodlot owners to recover from the devastating natural disaster that destroyed thousands of acres of woodlots and livelihoods for many owners and businesses.

The cost-share recovery program will be based on the long-standing success of SNC's Woodlot Advisory Service, which is supported by SNC's County partners, and SNC's Tree Planting Programs which are supported by several partners including the Government of Canada.

The program is aimed at restoring damaged woodlots to prepare properties for tree planting. Subsidized funding will support clean up, site preparation, and tree planting and tending costs. Reforestation program objectives also include increased carbon sequestration and forest resiliency through biodiversity.

Considering the volume of work and availability of both contractors and nursery stock the project has been established for a five-year duration (2023-2027). Any future costs or maintenance beyond the project duration are the responsibility of the landowner.

Eligible landowners can expect a free site visit from one of SNC's bilingual foresters and forestry technicians to determine their site-specific objectives, the preparation of a silvicultural prescription by a qualified forestry professional, a tree planting plan, survival assessments, and possible tending, all based on the site-specific evaluation. SNC, on behalf of landowners, will administer all work to complete forest restoration.

Retroactive compensation is also available for certain activities for landowners who already recovered damaged woodlots within the affected area after the storm. Landowners are reminded to keep pictures, transaction records and receipts so that retroactive compensation for work already completed can be considered.

"This is good news. Landowners directly affected by the derecho storm will now have some assistance recovering their woodlots and getting new trees in the ground," said Pat Piitz, SNC's Property and Forestry Lead. "The project will enhance carbon-storing potential of these forest areas while enhancing biodiversity and resiliency to climate change," adds Piitz.

To learn more or to apply, visit www.nation.on.ca/derecho.

For more information: Caroline Goulet, Forester; cgoulet@nation.on.ca 613-984-2948.