SNC Enjoys Successful Maple Program Relaunch at the Oschmann Forest
---
Submitted by T Campbell on Fri, 24/05/2019 - 1:39pm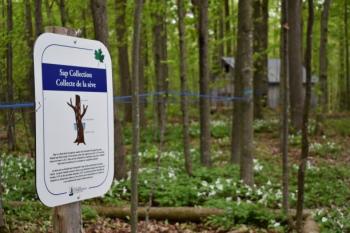 Revitalized at a new site, South Nation Conservation's (SNC) flagship Maple Syrup Education Program relaunched for its 18th season in March, now at the Oschmann Forest in Ormond, North Dundas.

Donated to SNC in 2017 by the Oschmann Family in memory of Gertrude Oschmann, the 18-acre forest boasts a diverse woodlot that was actively managed for maple syrup production for 50 years until the early 2000's.

With support from the Municipality, County and TD Friends of the Environment, SNC installed a new parking area, groomed walking trail, interpretive signage, maple syrup equipment, and pumphouse to provide local students and families an educational experience focused on maple syrup production, forest ecology, and First Nations natural heritage.

"We did remarkably well for our first season at the Oschmann Forest," said John Mesman, SNC's Communications Lead. "After a one-year break in 2018, we hosted 500 students from 9 local schools this year."

The bilingual not-for-profit program supplements the Ontario curriculum and has previously hosted upwards of 1,000 students a year at local sugar shacks.

The forest is well located in a triangle formed by Chesterville, Russell and Winchester and fairly central to SNC's 4,384 square-km jurisdiction in Eastern Ontario.

A total of 525 taps collected 7,330 gallons of sap which were sold to a local syrup operator this spring.

As for boiling into syrup onsite, that could come eventually depending on funding, Mesman said, but never on more than a demonstration scale.

With summer in view, SNC has re-opened its parks, trails, docks and boat launches for the season, including the Oschmann Forest.

Accessible free of charge, the forest will offer residents close-to-home recreational opportunities in a natural area, complete with a groomed 1.2 km walking trail and interpretive signage.

Garbage and recycling bins will not be located on site in 2019; the Conservation Authority will be installing trail counters to monitor visitor usage to inform future trail management. SNC will continue to raise funds to support future washroom facilities or rentals.

"We are thrilled to offer educational and recreational opportunities in our community forests," said Mesman. "We encourage families to step into nature this summer and explore local Conservation Areas and interpretive walking trails."

To learn more about SNC's network of community land and Conservation Areas in Eastern Ontario visit: www.nation.on.ca/recreation.

FOR MORE INFORMATION: Taylor Campbell, Communications Specialist, 1-877-984-2948, ext. 296, tcampbell@nation.on.ca.