SNC AWARDS FIVE NEW RIVER GRANTS
---
Submitted by B Lawrence on Thu, 14/08/2014 - 5:46pm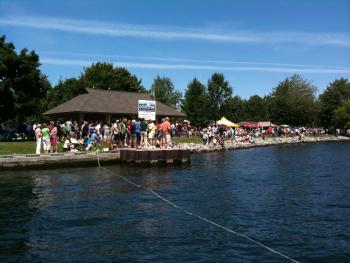 South Nation Conservation's River Grant Program has been steaming along this summer, dropping off five, $300 contributions to qualifying community projects.
In all, 10 projects have been approved so far this year, for a total contribution of $3,000. The purpose is to promote conservation-minded use of rivers and streams within the 4,200 square-km SNC jurisdiction.
The most recent projects to be approved include "Tea with Mercy Fairbairn" at Spencerville Mill, the Optimist Club Summer Children's Camp at Crysler, Local Bassholes Fishing Derby at Casselman, Grant Mills Historical Plaque at Hyndman, and South Dundas Chamber of Commerce Tubie Festival at Morrisburg.
"The grants represent an interesting variety of projects right across our territory," said River Grant Program coordinator Ronda Boutz. "It's all about expanding use of our waterways and increasing awareness of their recreational and educational possibilities."
To be held for a second time Aug. 24, the Spencerville tea on the banks of the South Nation River provides an opportunity to step back into the 1860s and meet the local miller's wife. Mercy Fairbairn will treat guests to an elegant afternoon tea, classical music and genteel conversation about the customs of the day.
Also held on the banks of the South Nation, the bilingual Optimist Club Summer Children's Camp presents a different theme each week, including "Green Days" to educate participants about natural resources and how they can help protect them.
Local Bassholes used their grant to purchase prizes for the youth and children's divisions in their fishing tournament at High falls Conservation Area on the banks of the South Nation. The objective is to promote the sport and to support area food banks. The club name itself deserves a prize.
The Grenville County Historical Society was behind the effort to erect a plaque recognizing founding of the early settlement of Grant's Mills, dating back to 1801. Close to the South Nation, the community was home to the first gristmill between Montreal and Kingston.
The Tubie Festival draws attention to recreation on and along the St. Lawrence River. The River Grant was used to support construction of an extra paddle-powered "tubie" craft to compete in the 44th edition of the attraction.
"These deserving events have all met River Grant guidelines and are a credit to their home communities," Boutz observed, adding that the program is open to non-profit organizations and municipalities within SNC jurisdiction.
FOR MORE INFORMATION: Adele Clark, Administrative Assistant.
877-984-2948, ext. 236, aclark@nation.on.ca
Attachments