SCIENCE AND RESEARCH TOUR
---
Submitted by Events User on Wed, 04/06/2014 - 1:48pm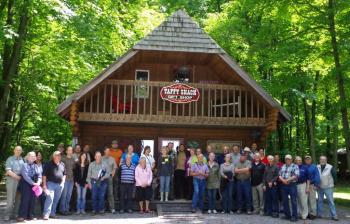 All aboard! On June 12, it's time for another South Nation Conservation free coach tour of a portion of the
4,200 square-km watershed.

Take a break from provincial Election Day hoopla and take in some of the environmental enhancement
projects that SNC has been working on.

"We realize the tour is on the same day as the election," said Josee Brizard, SNC Team Lead, Forest
Resources. "But after canvassing some of our passengers, the decision was to go ahead. Many voters take
advantage of advance polling and on Election Day, polls are open until 9 p.m. The tour concludes about 4
p.m."

There are four stops on the "Science and Research" tour departing South Nation offices in Finch at 8 a.m.
sharp. Each project will be fully explained by senior SNC staff who'll distribute fact sheets to participants.

Lunch will be served along the way and that's when members of the general public will be able to sit in on
brief meetings of SNC's Forestry and Fishery committees.

Starting out, the 55-seat coach will travel to the Port of Johnstown on the St. Lawrence Seaway where fish
and wildlife habitat is being expanded and rehabilitated as part of a major overhaul of the port.

Following a coffee break, the next stop is a bioengineering site at Moose Creek. After lunch, passengers will
visit a forest harvest operation, an important part of SNC activities. The conservation authority owns and/or
manages 20,000 acres of public forest.

The final stop of the day is to view improvements at the Crysler Dyke, part of SNC's foundation. The
authority owns, operates and maintains seven water control structures within its watershed.

Brizard described the tour as a great way for residents to get to know their region a little better while learning
first-hand about environmental issues close to home.

"Space is limited," she said. "Seats are allocated on a first-come, first-served basis to watershed residents."
To book a seat, contact Adele Clark, 877-984-2948, ext. 236, aclark@nation.on.ca.


FOR MORE INFORMATION: Josee Brizard, 877-984-2948, ext. 231.
jbrizard@nation.on.ca.