Drought conditions continue in part of SNC jurisdiction
---
Submitted by Lisa Van De Ligt on Mon, 12/11/2018 - 1:37pm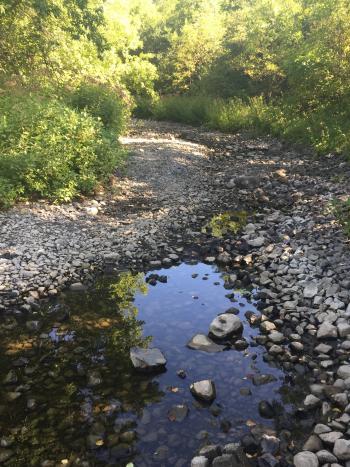 Thanks to a wet Fall, South Nation Conservation's (SNC) Water Response Team has downgraded the low water conditions in the jurisdiction.

In September, the Team issued a moderate (Level 2) drought condition for the Upper South Nation River Region, an area that extends from the South Nation River headwaters in the Augusta Township to the Village of Casselman. The remainder of the jurisdiction was in a minor (Level 1) drought.

The amount of rain received over the last 2 months has increased streamflows. As a result, the low water conditions have been downgraded from moderate (Level 2) to minor (Level 1) for the Upper South Nation River Region. The remainder of the jurisdiction is no longer experiencing minor drought conditions as streamflows have returned to normal. (Map)

SNC continues to advise landowners, businesses and other industries throughout the jurisdiction to use water conservatively and limit non-essential uses. To track drought impacts, anyone who is experiencing problems with their well are encouraged to contact SNC.

SNC's Water Response Team, created under the Ontario Low Water Response program, consists of representatives from provincial and municipal governments, agriculture and other special interest groups.

SNC will continue to monitor rainfall and streamflows and will provide updates as required.

For more information, contact: Omar Kana'n at 1-877-984-2948 ext. 309, okanan@nation.on.ca.