Ian Mitchell
---
Submitted by J Mesman on Mon, 29/08/2016 - 1:17pm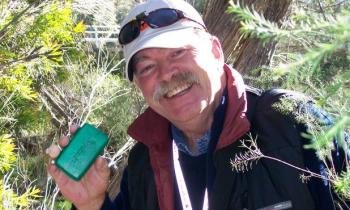 Friends to be Missed - Ian Mitchell
Ian Mitchell, Past Chair of SNC's Communications Committee passed away on Saturday, August 27th, 2016, one day short of his 65th birthday. Ian has been a long-time friend and supporter of SNC and has helped guide SNC's programs and services to new heights. His dedication and commitment to helping protect and manage the local environment was unmatched and he was a true friend to the staff at SNC. He respected staff's expertise and dedication to "his" river and its watershed.
Ian was also a founding member of the Geocachers of Eastern Ontario, a group of avid geocachers who are always eager to help out with SNC's environmental stewardship activities and who have helped boost recreation in the SNC jurisdiction through geocaching. Ian played an integral role in helping to produce SNC's Historical GeoPassport.
As a tribute to Ian, a memorial geocache has been placed in the Casselman area and a memorial "Cache-In-Trash-Out" event, entitled IAN-CITO, has been scheduled in his name on September 24th, 2016 at the Ferguson Forest Centre.
In lieu of sending flowers, Ian has asked for friends and family to make a donation to South Nation Conservation. SNC has established the "Ian Mitchell Memorial Fund" to help honour and thank Ian Mitchell for his unconditional contributions, support and companionship throughout his years of involvement with SNC.
Donations are able to be made by calling our office at 1-877-984-2948 or by mailing a cheque to our office, with the subject line "Ian Mitchell Memorial Fund". Online donations are also accepted through our website.
Donations received through this fund will be used to install memorial benches at Reveler and Two Creeks Conservation Areas, two of Ian's favourite places to visit. Any remaining funds will be invested in SNC's Tree Planting and Forested Land Acquisition programs.
South Nation Conservation will be matching all of the money received through this fund.
South Nation Conservation
PO Box 29, 38 Victoria Street, Finch, ON, K0C 1K0