Youth Hooked on SNC Summer Fish Camps
---
Submitted by S Gutoskie on Sat, 14/08/2021 - 7:53am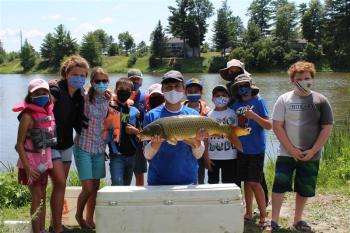 Nearly 100 youth baited a hook at SNC's Youth Fish Camps this summer. The program was on hiatus last year due to COVID-19 and sold out quickly when it made a return for its 12th season in 2021. 

"These popular camps deliver an invaluable outdoor learning experience for youth and help familiarize young people with the natural environment through responsible and sustainable fishing," explains Kelsey Smith, SNC's Stewardship and Outreach Assistant.

The young anglers reeled in some of the 72 fish species that call the South Nation River home, casting a line at the Cass Bridge Conservation Area in Winchester, High Falls Conservation Area in Casselman, and Jessup's Falls Conservation Area in Plantagenet.

Special guests from the Water Rangers were also on-site to teach youth about water quality through citizen science testing kits, while members from the Ottawa Flyfishers Society provided participants with the basics of fly fishing.

"There is a lot of value in these camps, like promoting eco-health," adds Smith. "Kids are given the chance to fish all day, make new friends, and connect and learn about their local environment."

Recreational fishing programs promote sustainable angling practices and encourage residents to explore fishing opportunities at Ontario Conservation Areas.

SNC works in partnership with its 16 member municipalities to share natural spaces and offer recreational opportunities on land and water.