Water Conditions Statement: Flood Outlook — Lower Ottawa River (Update)
---
Submitted by S Gutoskie on Wed, 27/04/2022 - 11:22am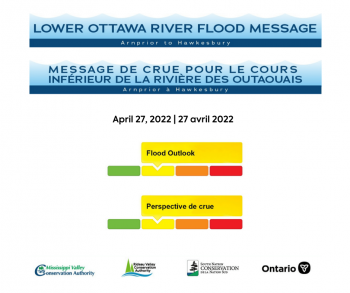 The Flood Outlook Statement issued on April 14th is still in effect for areas along the Lower Ottawa River (Arnprior to Hawkesbury).
Water levels and flows on the main stem of the Ottawa River are expected to increase in most locations over the next few days in response to combined snowmelt from the northern part of the basin and recent rainfall. Levels are expected to be similar to those experienced about one week ago in most locations before starting to decline. Reservoirs throughout the basin are being used to partially store runoff from the northern areas.
Residents in flood-prone areas are encouraged to closely follow changing conditions and to take necessary measures. Residents are advised to stay away from watercourses where flows are high and where banks might be unstable. Parents are encouraged to explain dangers to children.
The Mississippi Valley, Rideau Valley, and South Nation Conservation Authorities, and the Ministry of Northern Development, Mines, Natural Resources and Forestry monitor water levels and weather forecasts aspart of the Flood Forecasting and Warning Program. Updates are provided as conditions change.
The Ottawa River Regulating Committee will be reassessing forecast conditions and providing hydrological condition updates on its website daily at www.ottawariver.ca/forecasts/.
To view current flood warnings across Ontario, visit: www.ontario.ca/law-and-safety/flood-forecasting-and-warning-program.
This FLOOD OUTLOOK STATEMENT is in effect until May 18, 2022 at 5:00 PM. No further updates will be issued unless the forecast or conditions change.
South Nation Conservation
MEDIA CONTACT: Shannon Gutoskie, Communications Specialist, sgutoskie@nation.on.ca, 1-877-984-2948.
FLOOD DUTY OFFICER: Katherine Watson, Water Resources Specialist – Engineering, kwatson@nation.on.ca, 1-877-984-2948.
Definitions:


Water Conditions Statement: Water Safety: indicates that high flows, melting ice or other factors could be dangerous for such users as boaters, anglers, and swimmers but flooding is not expected.
Water Conditions Statement: Flood Outlook: gives early notice of the potential for flooding based on weather forecasts calling for heavy rain, snow melt, high winds, or other conditions.
Flood Watch: potential for flooding exists within specific watercourses and municipalities.
Flood Warning: flooding is imminent or occurring within specific watercourses and municipalities.