SNC Hosts TD Tree Days Planting Event in New Community Forest
---
Submitted by T Campbell on Fri, 19/10/2018 - 11:08am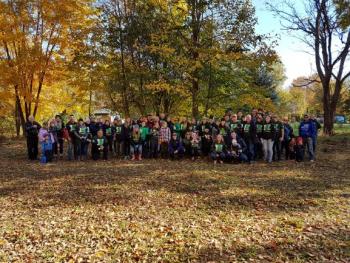 With support from TD Tree Days, South Nation Conservation (SNC) planted 150 potted stock trees and shrubs at the Oschmann Forest in the Township of North Dundas on October 14 with the help of over 50 local volunteers.

Undeterred by the morning's cool weather, volunteers of all ages planted native trees and shrubs amidst a warm backdrop of fall colours.

Newly planted trees included bur oaks, plum trees and other berry producing shrubs. The trees will act to increase the width of the forest buffer while increasing species diversity and contributing to local forest cover.

"We have to thank TD, the volunteers, and the Township," says Taylor Campbell, SNC Communications Specialist. "This planting will make a real difference to the community and this new forest donated to SNC in village of Ormond."

Over 300,000 native trees and shrubs have been planted in communities across North America through TD Tree Days, 150 of which are now at the Oschmann Forest, SNC's newest property recently acquired through donation, located near Winchester in the Township of North Dundas. The forest features an existing sugar shack, nature trails, a great natural legacy and boasts municipal partnership opportunities.

Earlier this year, the Conservation Authority announced that the Oschmann Forest would be the new home of its annual Maple Syrup Education Program, which hosts over 1,000 students a year providing them with a hands-on environmental learning experience at a local sugar shack.

Funds are currently being raised to again render the Oschmann Forest fit to demonstrate maple syrup production to local students in the spring of 2019.

"The new trees are a part of a bigger picture, both environmentally and locally," explains Campbell. "They're beneficial to the environment, but they're also part of the upgrades required to provide environmental education to local students here at the Oschmann Forest."

FOR MORE INFORMATION: Taylor Campbell, SNC Communications Specialist, 1-877-984-2948, ext. 296, tcampbell@nation.on.ca.