SNC Celebrates the Grand Opening of the Findlay Creek Boardwalk
---
Submitted by E Thorne on Fri, 27/10/2023 - 2:01pm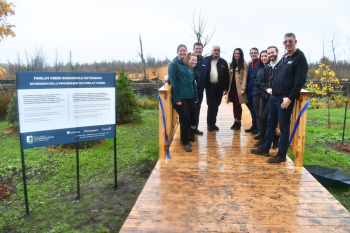 Despite the rainy weather, project partners, community members and friends of South Nation Conservation (SNC) gathered at the new entrance of Ottawa's Findlay Creek Boardwalk on October 21st, 2023, to officially open the recreational area to the public.

Thanks to support from Tartan and Tamarack Homes and $750,000 in funding from the Government of Canada through the Canada Community Revitalization Fund, SNC began work on the Findlay Creek Boardwalk Extension at the beginning of 2023.

The project has extended the original boardwalk built in 2012, by 540 m, creating an additional entrance and a nearly 1 km stretch of elevated looped pathway within one of Eastern Ontario's most unique habitats, the Leitrim Wetland.

The Leitrim Wetland is a Provincially Significant Wetland (PSW) and ecologically significant area surrounded by urban development in the City of Ottawa. SNC currently owns the majority of the wetland and is finalizing the transfer of ownership of a large block of the remaining PSW this year.

SNC has been working with the Leitrim Wetland Advisory Committee to oversee the management and stewardship of the Leitrim Wetland since 2004.

"We would like to thank our partners, supporters and friends for joining us today to celebrate the completion of the boardwalk construction" explains Michelle Cavanagh, SNC's Special Projects Lead. "I'm excited for the community to have more access to the Conservation Area which will provide excellent learning opportunities about the wetland habitat and the plants and animals that thrive within it," adds Cavanagh.

Public consultations started in January 2023 to inform the community and stakeholders about the extension, share design drawings of the boardwalk and to gain feedback on the project plans.

Taking resident and stakeholder feedback into consideration, the final design of the boardwalk was completed in the Spring, with the construction of the structure taking place through the Summer.

The Findlay Creek Conservation Area is a seasonally maintained recreational area, with no winter maintenance, and SNC is encouraging visitors to enjoy the boardwalk this fall.

"There are some final touches we will be working on in the coming months and into the new year, including adding interpretive signs along the boardwalk, but we are very happy to have the boardwalk construction complete and open for visitors to access and enjoy the final weeks of Fall," adds Cavanagh.

To learn more about the Findlay Creek Boardwalk Extension Project visit: https://www.nation.on.ca/projects/findlay-creek

FOR MORE INFORMATION: Michelle Cavanagh at 1-877-984-2948, mcavanagh@nation.on.ca.