Ottawa Residents Invited to Open House on Natural Hazard Mapping
---
Submitted by T Campbell on Fri, 11/01/2019 - 4:04pm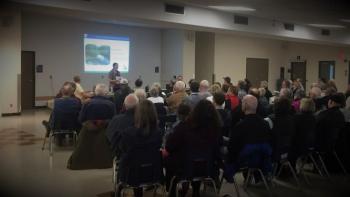 Extreme weather makes the news frequently. Locally, South Nation Conservation (SNC) reduces risk to life and damage to property by providing municipalities and residents with advance notice of potential flooding.

Flood forecasting responds to weather events experienced in a watershed and compares them over time. Flood forecasting and warning is also an important response to intense precipitation events.

In addition to flood forecasting, SNC is currently updating and improving floodplain and slope-stability maps for the City of Ottawa contained within SNC's jurisdiction.

This year's focus has included the areas of South Bear Brook from Highway 417 to Boundary Road, McKinnons Creek from the intersection of 10th Line Road and Wall Road to Milton Road, East Savage Creek from Mer Bleue Road to Milton Road, and McFadden Creek from Navan Road to Milton Road.

SNC invites Ottawa residents to attend a public open house to view and comment on the new natural hazard maps. The open house will take place on Thursday, January 31, 2019 from 6:30 pm to 8:30 pm at the Carlsbad Springs Community Centre (6020 Piperville Road, Carlsbad Springs ON).

"We are particularly interested in historical information that residents may be able to provide for these watercourses," said Sandra Mancini, SNC's Team Lead, Engineering. Mancini invites residents to bring along photos, news clippings, and anecdotal stories to compare to natural hazard maps.

Mapping will be used by the City and SNC when updating official plans and zoning schedules, and in reviewing other Planning Act applications. "The ultimate goal of the mapping is to help ensure safe development," added Mancini. "It's all about keeping people and property safe."

SNC staff will be on-hand at the public house to respond to any questions from property owners and residents.

FOR MORE INFORMATION: Sandra Mancini, Team Lead, Engineering, 1-877-984-2948 ext. 223, smancini@nation.on.ca.