Low Water Conditions Return to Normal in SNC Jurisdiction
---
Submitted by T Campbell on Fri, 09/10/2020 - 8:44am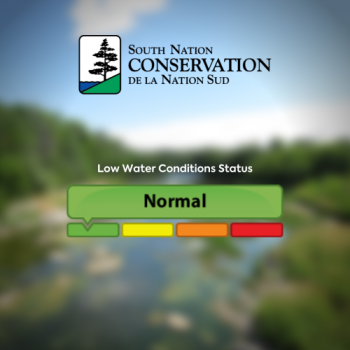 As of October 9th, 2020, South Nation Conservation (SNC) has terminated Level I (minor) low water conditions for the Upper South Nation Subwatershed region. This area extends from the South Nation River headwaters in the Augusta Township to the Municipality of Casselman.

Ground and surface water levels across the watershed have returned to normal for this time of year thanks to consistent precipitation over the past couple of weeks in Eastern Ontario. The short-term weather forecast is also calling for more rain in the coming days.

The termination of low water conditions formally ends this summer's drought, which at its height triggered Level II, or moderate, conditions in July following a hot and dry spring. Level II drought conditions had not been experienced in the watershed since 2018.

Through the Ontario Low Water Response Program, SNC monitors precipitation, stream flows, and water levels to gauge low water conditions and provides notice to its member municipalities and watershed residents on behalf of the province. SNC staff will continue to monitor conditions and will provide updates as required.

Residents are encouraged to contact SNC through an online portal on SNC's website if they are continuing to experience any problems with their wells or if they have any concerns and information to share with staff from this year's drought.

FOR MORE INFORMATION: Omar Kana'n, Water Resources Specialist – Engineering,
613-984-2948,okanan@nation.on.ca.

MEDIA CONTACT: Taylor Campbell, Communications Specialist,
613-984-2948, tcampbell@nation.on.ca.