Free Fishing on the South Nation River Until July 19!
---
Submitted by T Campbell on Fri, 10/07/2020 - 12:30pm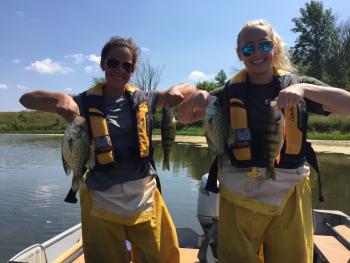 Ontario has extended Family Free Fishing to July 19th, and South Nation Conservation (SNC) is encouraging families from across Eastern Ontario to get out fishing along the South Nation River.
The South Nation River is 175 kilometres long, beginning north of Brockville and empties into the Ottawa River near Plantagenet.
Through various monitoring initiatives, SNC has determined that there are at least 72 species of fish in the River, including smallmouth bass, pike, crappie, walleye, muskie, catfish and carp.
The following Conservation Areas and municipal partner sites are open and offer recreational access to the South Nation River for fishing or boating:
High Falls Conservation Area (Casselman)
St. Albert Conservation Area (St. Albert)
Crysler Park Boat Launch (Crysler)
Embrun Boat Launch (Embrun)
Chesterville Boat Launch and Docks (Chesterville)
Spencerville Mill Boat Launch (Spencerville)
Cass Bridge Conservation Area (Winchester)
Jessup's Falls Conservation Area (Plantagenet)
Oak Valley Pioneer Park Conservation Area (Winchester Springs)
SNC reminds people to be safe on the water and follow best practices: ensure that everybody is wearing a lifejacket; handle fish with care and release them as quickly as possible; and follow conservation licence catch limits. It is also recommended to tell friends and family where you will be fishing and when you plan on returning.

It is unsafe and illegal under the Federal Fisheries Act to fish within 23 metres of a dam: please do not fish near dams or use water control structures to access rivers. Fish congregate in these areas to pass over dams and access fish ladders and fishing prevents many fish species from spawning, which pose significant risks to fish populations. Please use safe and appropriate fishing locations.

SNC also proudly gives new and young anglers including families the opportunity to go fishing at no cost through its Tackle Share Program, in which limited fishing rods and tackle supplies are available to sign out for free from the Conservation Authority's head office in Finch. Those interested in borrowing supplies can contact SNC at 1-877-984-2948 or info@nation.on.ca.

Discover the endless angling opportunities in the South Nation River through our interactive fishing Story Map and recreational fishing guide, available at www.nation.on.ca/recreation/fishing.

FOR MORE INFORMATION: Taylor Campbell, Communications Specialist, 1-877-984-2948, tcampbell@nation.on.ca.

###