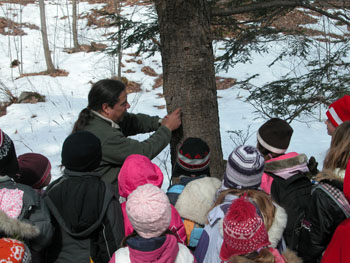 Every spring, SNC invites your school group to tap into our Maple Syrup Education Program. We offer a bilingual program with a focus on Aboriginal traditional knowledge. Sand Road Maple Farm hosts this unique learning experience in Moose Creek, where your group can enjoy pancakes and maple taffy and much more.
SNC partners with Sand Road Maple Farm to guide participants through hands-on discovery. Learn the process of maple syrup production, as it has evolved from Aboriginal traditions, through to modern day production techniques. The program features guided tours along interpretive trails and a visit to a working evaporator. Maple Syrup Education kits are available for loan to classrooms on a first come, first served basis, if your group is unable to make it to our programming site.
This program fills up fast. Contact Holly Nyenkamp to register.
Open the registration form. You must download the PDF to complete electronically. For assistance please contact: Holly Nyenkamp by email hnyenkamp@nation.on.ca or 1-877-984-2948 ext. 370
*All payment to SNC is for the tour and taffy only. An additional fee applies for meals and must be paid directly to Sand Road Maple Farm by cash or cheque as a separate payment at the time of your visit.
Thank you for your interest in our Maple Education Program.
IMPORTANT – Your group is NOT guaranteed until you receive official confirmation from SNC staff. If you do not receive any confirmation – PLEASE contact Holly Nyenkamp ASAP. Thank you.