The Forestry Committee provides guidance to SNC staff in the delivery of its forestry program. Members include representatives from the Ontario Ministry of Natural Resources, Forestry Consultants, farmers, rural landowners, Board Members, Contractors, MNR, Snowmobile Associations, UCPR, and UCSDG.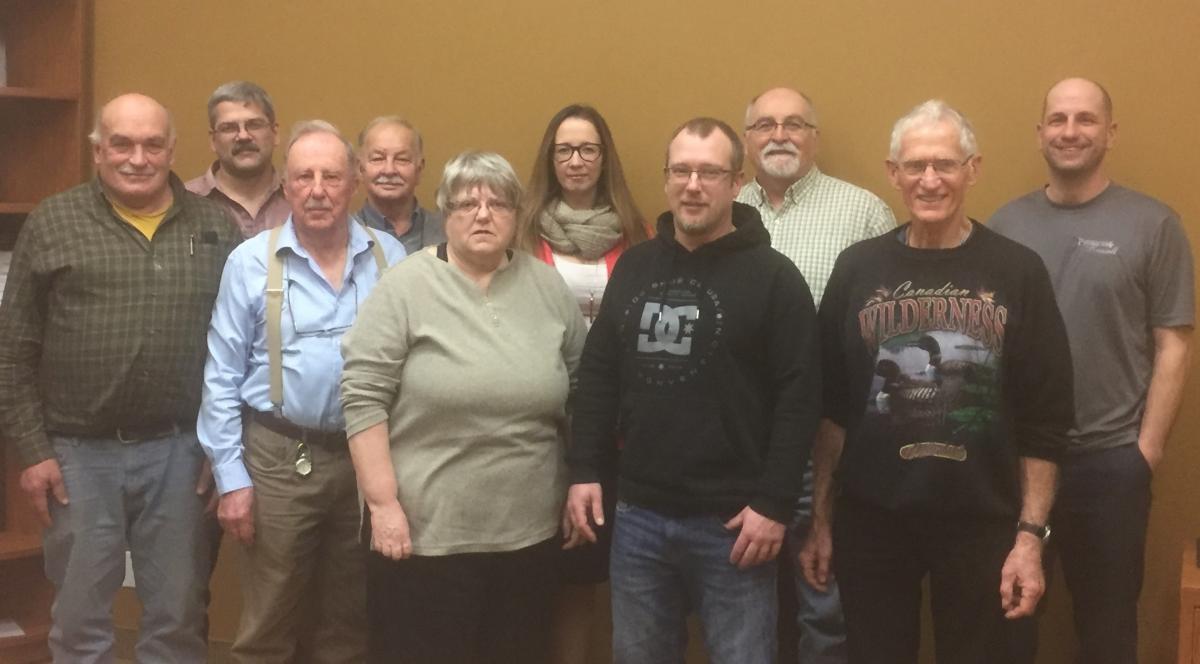 2018 Members
Back, left to right:  Tony Ricard, Private; Dave Robertson, Committee Chair; Alison McDonald, UCSDG; John Boals, Snowmobile Assoc.; Steve Hunter, UCPR
Front, left to right:  Alain Bertrand, Farmer; Murray Inch, Private; Dorothy Hamilton, SDG OWA;Colin Morrison, Contractor; Achille Drouin, EOMC
Missing from Photo:  François Allard, Private; Archie Byers, Private; Maurice Chabot, Private; Floyd Dingwall, Past Board Member; Elizabeth Holmes, MNRF; Martin Streit, MNRF; Ron Toonders, Ag Soil and Crop; François St. Amour, SNC Board Member; Fernand Dicaire, SNC Chair; Bill Smirle, SNC Vice Chair; Doug Thompson, SNC Past Chair 
Forestry Committee Members
Dave Robertson Committee Chair
François Allard, Private Citizen
Alain Bertrand, Private Citizen
John Boals, Snowmobile Assoc.
Archie Byers, Private Citizen
Maurice Chabot, Private Citizen
Floyd Dingwall, Past Board Member
Achille Drouin, EOMC
Dorothy Hamilton, SDG OWA
Elizabeth Holmes, MNRF
Steve Hunter, UCPR
Murray Inch, Private Citizen
Colin Morrison, Contractor
Tony Ricard, Public Citizen 
François St. Amour, SNC Past Board Member          
Martin Streit, MNRF
Jack Sullivan, UCSDG
Ron Toonders, Ag Soil and Crop
Bill Smirle, SNC Interim Chair, ex-officio
Doug Thompson, SNC Past Chair, ex-officio
Staff Liasion:  Ronda Boutz, Team Lead, Special Projects
2019 Meeting Schedule
| | | |
| --- | --- | --- |
| 2019 | Agendas | Minutes |
|   |   |   |
| March 7th | 2019 03 FOR Agenda | 2019 03 FOR Minutes |
| 10 - 12 pm | 2019 03 FOR PPT |   |
| 1 - 3 pm | 2019 03 JSC Agenda | 2019 03 JSC Minutes |
|   | 2019 03 JSC PPT |   |
|   |   |   |
| June 4th | 2019 06 FOR Agenda | 2019 06 FOR Minutes |
|   | 2019 06 FOR Supp |   |
|   | 2019 06 FOR PPT |   |
|   |   |   |
| September 3rd | 2019 09 FOR Agenda | 2019 09 FOR Minutes |
|   | 2019 09 FOR Supp |   |
|   | 2019 09 FOR PPT |   |
|   |   |   |
| December 3rd   | 2019 12 FOR Agenda | 2019 12 FOR Minutes |
|   | 2019 12 FOR Supp |   |
|   | 2019 12 FOR PPT |   |
Forestry Committee Minutes:  Archives
2016 Forestry Committee Minutes