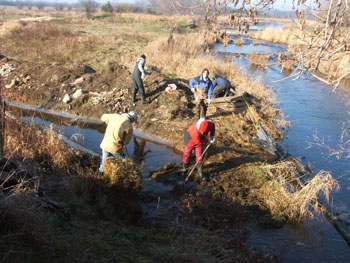 Conservation work at SNC is proof that fish habitats can thrive, but changes to shorelines can degrade them. Healthy aquatic habitat is vulnerable to: clearing trees and vegetation along shorelines; excessive soil sliding into waterways; and grass clippings, which cause harmful nutrient levels.
We lead fish habitat restoration projects such as: adding materials that help shelter juvenile fish; planting native vegetation for shade and oxygenating the water; and armouring stream banks to stabilize active erosion.
Our project success includes walleye spawning area enhancement projects in Plantagenet, Chesterville, and Spencerville; and planting native trees, shrubs, and herbs in Greely to improve habitat in Shields Creek.